Sightseeing courses
Sannai Maruyama ruins, Hakkoda, Kuroishi, Kokeshi house, Seibien, Rice Paddy Art course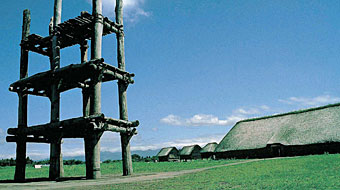 Course details

How about trying this course for those who came to Aomori when they were young? You can see the daily life of the common people during the Jomon period and Domain(han)period. We will also visit the Best and No.2 autumn leaves viewspot.

The time required

7 hours

Best season

From July to November

Sightseeing route

JR Shin Aomori station・ Aomori airport— Sannai Maruyama Historical Cite—Hakkoda Ropeway—Jyogakura Ohashi—Nakano Momiji mountains—Tsugaru Kokeshi House・ folktale and craft house—Kuroishi・ Komise street—Ogami・ Seibiyen—Inaka kan・ rice paddy art—JR Hirosaki・hotels inside Hirosaki.
Introducing sightseeing spots
Sannai Maruyama Historical Cite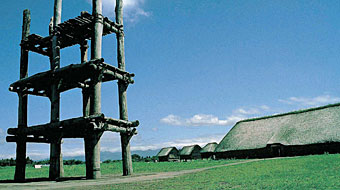 Points to see

(National special historical cite) By the excavation survey until today, human settlements from the beginning to the middle period of Jomon era were found. Buildings made up with pillars sunk into the ground, a large dwelling built into a dugout, warehouses with a raised floor, a valley which an enormous amount of relic desposed, tombs of adults and children were found.
Also relics which we can get an idea of the eating habits, commerce, and lacquer ware techniques were found.
In this way, the Sannai Maruyama Historical Cite is a valuable ruins which we can get a concrete idea of the lifestyles of the Jomon period.
Hakkoda Mountains (Hakkoda Gourd line)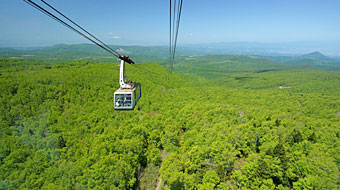 Points to see

Hakkoda Mountains is a collective name of the mountains in the northern part of Towada Hachimantai National Park. With the main peak, Hakkoda Ohtake in the center, it is composed of around 10 mountains.
There are many wetlands and it is a treasury for the high mountain plants. From spring to summer, it is crowded with many mountain climbers.
Hakkoda Mountains is blessed with snow, and frost covered trees can be seen as well. It has a hige scale as a ski resort.
The Hakkoda ropeway is a gondola which is designed for 101passengers. It introduces you up to the mountaintop of MountTamoyachi all year around.
At the ropeway mountaintop park station which is at the Mount Tamoyachi surroundings, you can find more than 10 ponds and swamps. It is one of the most beautiful viewpoints in Hakkoda Mountains.
As the road for strolling through this great mother nature has the shape of a gourd, it is called the Gourd Line. People of all ages and both sexes can enjyoy the promenade.

Information for visitors

Hakkoda Ropeway
open periods / March~until the beginning of November 9:00~16:20, middle of November~end of February 9:00~15:40
A round trip ticket / Adults 1850 yen, Elementary school students 870 yen.
Jogakura Ohashi Bridge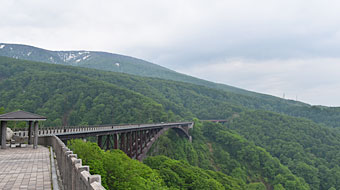 Points to see

The bridge is built over the Jyogakura gorge which divides Aomori city and Kuroishi city.
It is the largest truss arch bridge in Japan with the length of 360m, 122m to the bottom of the valley.
From here you can enjoy the wondeful view of north-south Hakkoda Mountains all year around.
Nakano Momiji Mountain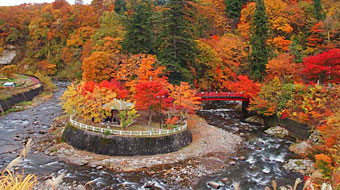 Points to see

In 1802 (2nd year of Kyowa) , Neishinkou of Tsugaru brought from Kyoto around 100 sorts of Maple seeds and planted them out. It became a beauty spot for the Maples.
In the Nakano shrine in the forest, maples and momi fir of 200 years old, big japanese cedar (sugi) of 500 years old is raised.
The autumn foliage with blazing red leaves shine brilliantly on the fall and stream. The beautiful view is praised.
During the autumn foliage season, there is a lightup of the Momiji until the beginning of November.
Tsugaru Kokeshi House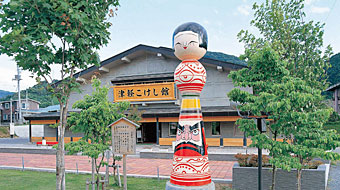 Points to see

3000 Kokeshi's with 11types are gathered throughout Japan. The best Jumbo Kokeshi and grain toys are also displayed.
Mori Hidetaro from Nurumayu Onsen of Kuroishi city and Tatsuo Hasegawa from Ohwani have cultivated the tradition of Tsugaru type until today.

Information for visitors

Open hours / 9:00~17:00
Admission fee / Adults 320 yen, Highschool students 270 yen, Elementary and Junior Highschool students 160 yen.
Kuroishi, Komise(little shops) street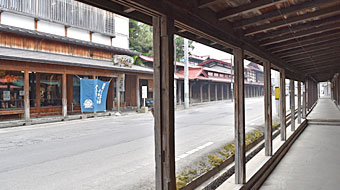 Points to see

It is a castle town of Tsugaru Kuroishi clan. It features an arcade shopping area from the latter period of Edo era.
An arcade made of wood to protect the house from snow, there are a few still in Hirosaki and Tsugaru city, but the Komise in Nakamachi of Kuroishi city stays the same from the Edo period.
It was chosen as one of the best 100 Japanese Roads in the 62nd year of Showa.
Seibiyen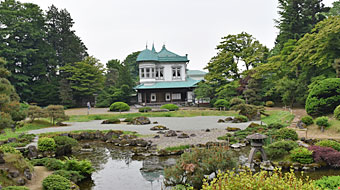 Points to see

(Government designated historic site) It is a representative japanese garden of Oishi Bigaku Ryu Karesansui kaiyu-shiki.
The garden covers 1.2 ha of land. The construction started in the 35th year of Meiji and was completed in 44th year of Meiji.
The building of semi western style with it's unique beauty harmonizes with the garden and conceals the appearance of the Meiji period.
Seibiyen became a motif for the movie "Karigurashi no Arietti" one of the works of Studio Jiburi in 2010.

Information for visitors

Temporary closure / the close of the old year to the start of the new year December 29 – January 3
open hours / mid April to September / 9:00~17:00, October to mid November / 9:00~16:30, mid November to mid April / 10:00~15:00.
Admission fee / Adults 430 yen, Junior highschool and Highschool students 270 yen, Elemantary school students 160 yen (group discounts available)
Inaka-kan (House of country side), Rice paddy art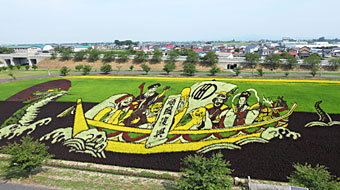 Points to see

This first started with the design of Mount Iwaki drawn in the 5th year of Heisei along with the letters "Inabunka no murai nakadate". From "Monalisa" drawn in the 15th year of Heisei, it is called Rice Paddy art since then.
Nowadays the promotion grade rice Tsugaru Roman and ancient purple and yellow rice, new rice of Iwai Akane is colorfully used. During the 4 months until the rice harvesting, 100 thousand to 200 thousand people come to visit.
From the toppest floor of the village office Inaka kan "Inaka-kan jyotenshu"you can have a view.

Information for visitors

open hours / 9:00~16:30
Taxi fees
| taxi type | number of people who can ride | charge | number of cars | remarks | reservation and credit card settlements |
| --- | --- | --- | --- | --- | --- |
| small size taxi | 4 people | 31,000 yen | 95 cars available | | |
| high class taxi | 4 people | 35,000 yen | 4 cars available | Origin, Crown, Alphard, Celsior | |
| jumbo taxi | 9 people | 38,000 yen | 9 cars available | HiAce | |
| small size privately booked bus | 21 people | 61,000 yen | 1 bus available | Liesse II | |
| medium sized privately booked bus | 40 people | 73,000 yen | 2 buses available | Aero ace, Melpha | |
| wheel chair sleeping car | 6 people | 38,000 yen | 6 cars available | 2 wheel chair passengers(1sleeping berth possible)+4 people | |
*taxisite plus is a service provided by the taxisite.
*Regarding the information and photos of sightseeing spots and facilities on the homepage, we do not guarantee the accuracy, reliability and integrity.
*For details of the sightseeing spots and facilities on our homepage (open hours, admission fee), please confirm on the official homepages respectively.
*Admission fee, entrance fee, the cost of food and drink, parking fee, toll road fee are not included in the charge. Customer must bear the actual expenses.
*If during the ride, customer changes the route or cancels the ride for personal reasons, customer must pay for the calculated amount which is applied by temporality charge from the beginning.
*At the sightseeing spots, if the time is extended under a special contract with the customer, customer must pay for the amount which is applied by temporality charge.
*There may be cases in which the driver is not fluent in English. We appreciate your understanding.
*A sightseeing taxi is a service which we drive you to the sightseeing facilities on our taxi according to the sightseeing courses decided in advance. It is not a service which a travel agency provides, therefore our driver will not provide comment on the sightseeing facilities and guide you. It is possible to drive you to the sightseeing facilities which are not on the sightseeing courses. If you would like to visit optional sightseeing facilities or sightseeing courses, please contact us from the e-mail inquiry form.
Reservations, inquiries about sightseeing taxi
For reservations and inquiries of sightseeing taxi, please contact the following telephone number or e-mail form.
TEL: 0172-33-3333